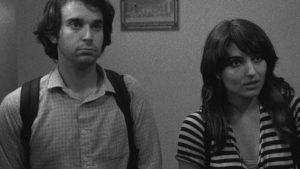 Now Showing
Fugiat perferendis nesciunt.
Mary-Jane, a lonely mother in her forties, gets absorbed in a sentimental affair with a 14-year-old boy.
Learn More
Now Showing
Murmur of the Heart
As France is nearing the end of the first Indochina War, an open-minded teenage boy finds himself torn between a rebellious urge to discover love, and the ever-present, almost dominating affection of his beloved mother.
Learn More
Welcome, Cinephiles!
A hat tip to the 1920s motion picture palace, Roxy Cinema is an Art Deco-inspired arthouse cinema located in Specializing in first-run independent films, rare archival prints and 35mm cult classics, it also runs special cultural programming including film series, director and actor Q&A's, and artist collaborations. With its gourmet concession stand, you can also purchase craft cocktails, beer and wine, popcorn and candy to enjoy during the movie. Whether you're a couple dropping in for a casual date, or an enthusiast coming to see a favorite director, the Roxy Cinema is an old-school moviegoing experience for modern-day audiences.
To get to the cinema, take the stairs or elevator to the cellar level—both are located in the back of the entrance level, on the right side.
GENERAL ADMISSION $15
To purchase tickets, please visit the "Now Showing" page.
SENIOR, GUESTS WITH DISABILITY, STUDENT & CHILD $12
Seniors (65 and over), federally disabled (with ID), students (with ID) and children (12 and under) must purchase their tickets in person to receive this discount.
For general inquiries, please contact (212) 519-6820 or email info@roxycinematribeca.com
Become a Member
Are you hooked to the silver screen? We know the feeling. We created the Roxy Cinema Membership for our most devoted cinephiles, rewarding film fandom with perks. Meet us under the marquee!
Become a member and receive:
Unlimited access to all showtimes
A complimentary popcorn at every show
Untold amounts of cinephile cred and a permanent back-pocket cool date idea
Memberships are $250 per year, valid for one year from the purchase date, and good for one moviegoer only.
Join Now
Roxy Cinema Events
We have one of New York's most exciting calendars to sync with. The Roxy Cinema is the downtown darling for celluloid heroes and devotees alike, often hosting special screenings, moderated panels and star-studded premiers. We also host Q&A series, collaborations and special programming like curated cult favorites.
View All
Eat & Drink
Make it more than a movie!
Extend your entertainment by dining at our other unique venues, before or after the show.
Roxy Bar
A ground-level dining venue situated around a performing stage, offers craft cocktails and classic American fare.
Learn More
The Django
A cellar-level, Parisian Jazz Age-inspired club featuring two bars, an open dining space, and another stage for live performances.
Learn More